HPS. High performance under high pressure.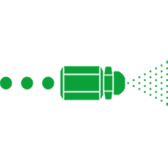 The adiabatic high pressure nozzle system HPS humidifies the air in air conditioning and ventilation systems. It stands out with very high humidification performance yet extremely low energy consumption, efficiency of up to 98% and very high control precision.
To guarantee the highest possible operating safety, the housing can be locked to prevent unauthorised access.