LPS. High performance - permanent operation.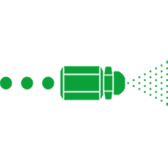 The HygroMatik low pressure system LPS for adiabatic humidification and air cooling in air conditioning systems is really easy to install, space-saving (600 x 700 x 238 mm), and quiet. It is even suitable for short humidification distances. It offers maintenance-free operation up to 8,500 working hours, and it is ideal for easy, fast retro-fitting to existing air conditioning systems.
The wall-hanging housing is made from sturdy stainless steel. Along with the HygroMatik vortex modules, the system achieves the ideal level of effectiveness.